News
News
Saturday, 27 November 2010 12:49
FIDH, International Federation for Human Rights, its member organisation in Belarus, Human Rights Centre "Viasna", and Belarusian Helsinki Committee (BHC) published a briefing note on the situation of human rights in Belarus in the context of the Presidential elections, which are scheduled to take place on December 19th 2010. Belarus: 2010 presidential elections Threats and Challenges.
News
Friday, 19 November 2010 13:01
Belarusian presidential elections take place on 19th of December 2010. Central Election Commission of Republic Belarus registered 10 candidates for the presidential post. Besides current president Lukashenka, among the candidates you can find representatives of the liberal party OGP – Ramanchuk, national-oriented party BNF – Kostuseu, Christian-Democratic party BHD – Rymasheusky, representative of Tell the Truth campaign Njekljajeu or representative of Union for Modernization Mikhalevich and others. Belarusian opposition politician known in Europe, Milinkevich, is not taking part in these elections.
Information in English about the proceedings of the elections you can find on the webpage of Belarusian Central Election Commission http://www.belarus.by/en/press-center/belarus-elections-news or for example European Radio for Belarus http://vibary.euroradio.fm/en (here you can also find short info on each of the candidates in English). More detailed information on the candidates in Russian and Belarusian you can see at Radio Liberty web page http://www.svaboda.org/content/article/2186749.html or at a site devoted fully to the elections http://election.in-by.net. The elections and their fairness are also observed by Belarusian human rights defenders – you can find their reports in English at http://www.european-exchange.org/index.php?id=327.

News
Thursday, 09 September 2010 17:15
On September 3, Belarusian journalist and founder of website Charter 97 was found hanged in his summer house. Aleh Byabenin has died from suffocation according to Belarusian prosecutor. However, his family and colleagues have doubts his death was a suicide. European Parliament, OSCE as well as international journalists´ associations appeal to the Belarusian authorities to carry out a transparent and independent investigation.
Assistance to civil society
Tuesday, 31 August 2010 17:32
Belarusian young activists took part in a series of trainings and presentations in the Czech Republic. They created a presentation based on one of the trainings, which describes the usage of internet a various free-of-charge internet tools for the promotion of NGOs and their work. The presentation is available only in Russian.
Presentation for Belarusian activists and NGOs - use of internet for communication and promotion
News
Tuesday, 03 August 2010 19:50
Belarusian diaspora in the Czech Republic together with guests from Belarus will start a commemoration of the hundred years´ anniversary since the birth of Larysa Geniush, a renowned Belarusian poetess. On August 8, a trip to castle Vimperk will take place. The castle is a place of Larysa Geniush´s imprisonment in 1948 before she was handed over to Soviet police and sent to gulag.
The trip includes an opening of a small exhibition dedicated to Larysa Geniush and other. For more details and the "when and how to get there", see the Czech version of the site.

Read more...
News
Sunday, 25 July 2010 14:13
Berlin magazin Plotki together with a Belarusian community Generation.by and a Belarusian independent internet platform iBelarus.net issued a publication on uncommon topics from Belarusian everyday life. Young people from Belarus and other European countries spent together ten dys in Belarus and created articles, comics, photos and also a poem about Belarusian nature reserve, life of retired women, music clubs, necessity to get married before 25, architectural sites or life of homosexuals. You can find the publication in English (with little samples of Belarusian texts) here.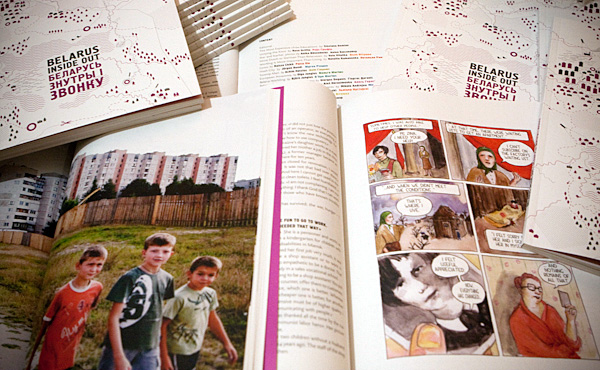 If you like the pictures in the publication, here you can find some more.
«
Start
Prev
1
2
3
4
5
6
7
8
9
10
Next
End
»